Why does the car ignition coil burn out?
Why does the car ignition coil burn out? Key material-Insulating layer
If your vehicle is hard to start or car engine is shaking, there are some reasons might be included.
Spark plugs: It may be that the spark plug gap is too large or carbon fouling can lead to the coil overloaded, then causes overheating and a short circuit.
Battery power supply: Unstable battery power supply may cause the ignition coil to burn out.
Vehicle computing system: If vehicle computing system has a failure signal, please go to the repair shop for testing.
However, if we chose an ignition coil with excellent insulation quality, the aging damages of ignition coil can be reduced when these situations happened.
Product Category:
What can we help you with?
Please provide OEM number of the ignition coil and we will recommend the suitable coil for your car. By replacing the new ignition coils, to increase the usage of your engine. 》Contact Us
Packaging & Delivery
MOQ : 25pcs
Lead time : 14-30 days (Based on stock condition) Urgent order ship time negotiable.
Samples: 1 Piece (Min. Order) 》

Buy Samples

Ignition Coil Construction
Basically ignition coil comprises the iron core, the primary coil, and secondary coil. They are assembled inside the coil case, then filled with an insulating material.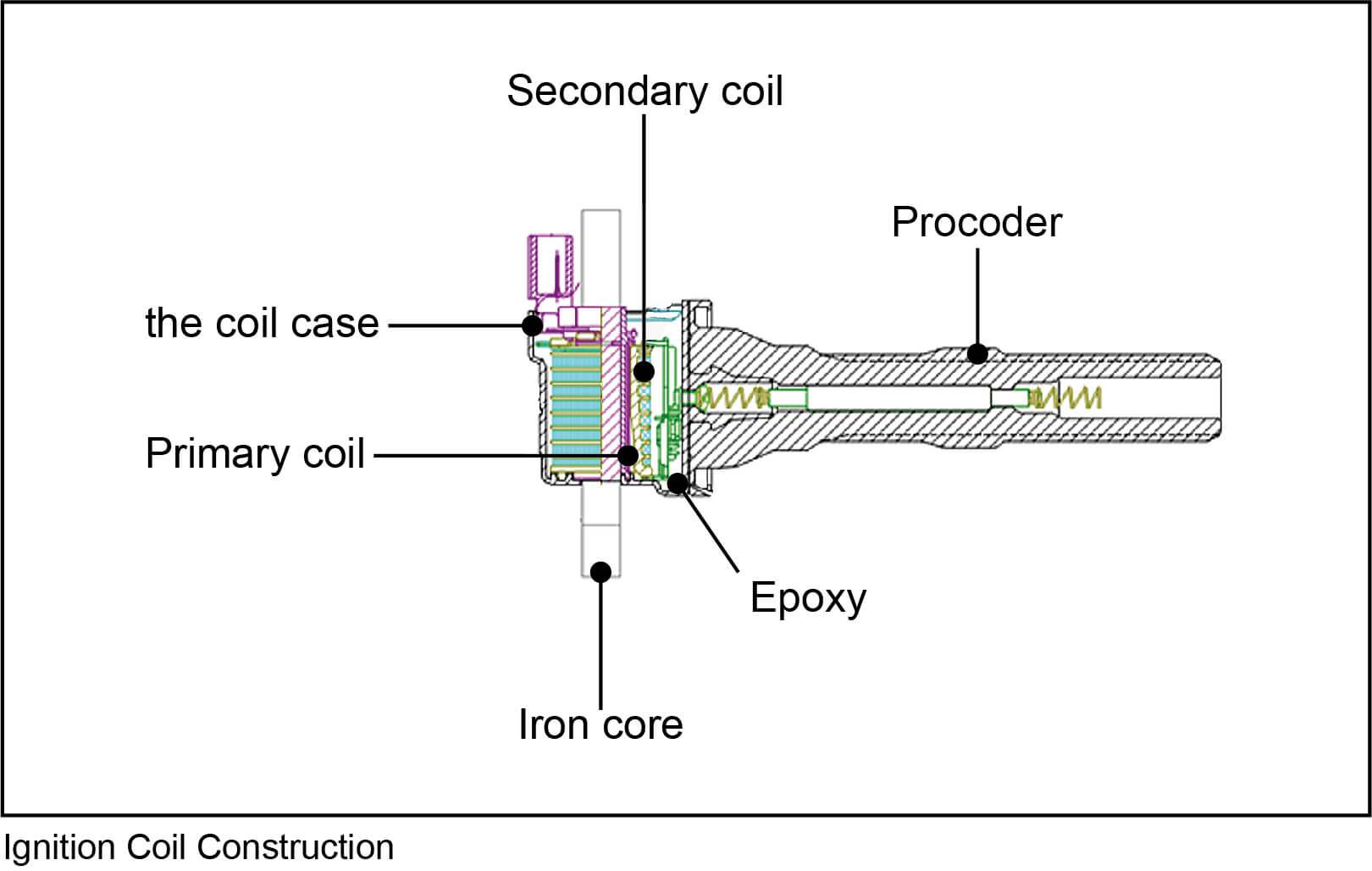 The main cause of ignition coil burnout
The main cause of ignition coil burnout is the insulating material aging. For example, when the ignition coil high voltage can't output smoothly, the current turbulence in coil will occur, causing the temperature to rise rapidly and accelerate the insulating material aging. Therefore, it is possible to cause the voltage to break down the insulating layer, then the ignition coil burns and a short circuit occurs.

Ignition coil insulation method
1. Plastic molding type (referred to as PP plastic molding)
The coil will be saturated with varnish for a period of time after the preliminary assembly, then dried and hardened after being taken out. The inside of coil is insulated by varnish filled. The process is not completed until coil is coated by the plastic injecting into a mould. In the early days, plastic molding type ignition coil was mostly used for motorcycles.
2. Asphalt filled type
The coil is placed in a metal can case and filled with asphalt around the coil to completely cover it. Asphalt filled type ignition coil is the earliest insulation method for making automotive ignition coils.
3. Oil filled type
As same as the asphalt filled type, except that asphalt is changed to insulating oil as the insulating layer. The insulation resistance and permeability is excellent. However, the disadvantage of oil filled type ignition coil is that polychlorinated biphenyl is poisonous, so oil filled type ignition coil was banned in Taiwan since 1980.
The coil is housed in a resinous case and filled with epoxy resin as an insulating material. Epoxy resin filled type ignition coil is currently the mainstream of ignition coils for both automobiles and motorcycles. READ MORE
Asia Traffic Supply Company will perform the following tests in order to provide ignition coils with excellent insulation quality. How do the endurance tests of ignition coil insulating materials make sure if the resin has reached the insulation endurance standard?
Purpose: To test the insulation capacity of 2.0mm thickness resin
Resin test piece size: diameter 120mm, thickness 2.0mm

Insulation endurance test machine
Test conditions: 1. Test voltage: 40kV. 2. Test time: 1min.

Testing

Oscilloscope screen: Voltage 40.2kV


Results: Passed the insulation endurance test and no breakdown voltage through insulating resin. 2.0mm thickness resin can withstand 40kV high voltage.
Related Products

---